Vishwakarma Puja last day of Bengali Month Bhadro
Vishwakarma Puja 2015
September 17 Thursday 2015
Sankranti Time : 12:29:28 PM
Vishwakarma Puja during Kanya Sankranti
Vishwakarma Puja or Biswakarma Puja generally observe in Uttar Pradesh, Karnataka, Assam, West Bengal, Bihar, Jharkhand, Odisha, and Tripura. The festival is observed primarily in factories and industrial areas, locomotive workshops, Jewellery shops, often on the shop floor.
Lord Vishwakarma is known as the Lord of Craftsmen. Hindus worship Lord Vishwakarma as the God of Engineering and Architecture. He is the presiding deity of Goldsmiths, Blacksmiths, Carpenters, Masons, and all people who possess craft skills. Lord Vishwakarma is the son of Lord Brahma, the Cosmic Creator. The famous Hindu epic, Mahabharatha, describes him as "The Lord of the Arts, Executor of a thousand handicrafts, the Carpenter of the Gods, the most Eminent of Artisans, the Fashioner of all ornaments and a great and immortal God".
Lord Vishwakarma is pictured with four hands carrying a book, a vessel, a noose, and craftsmen tools. Hindu scriptures are full of stories of his glorious contributions to mankind. He was the only architect who was imbued with all the qualities of Fine Art, which were necessary for the creation of Universe. Hindu mythology believes that, everything in this world we see like the dams, the reservoirs, bridges, skyscrapers, and all sorts of mechanics around which our life revolves are the product of Hammer and Chisel, which represent, Lord Vishwakarma.
All Chariots, and Divine weapons of the Gods are created by Lord Vishwakarma. He is also known to have built great cities like Dwarka, Yamapuri, and Lanka.
Indians craftsmen celebrate the Vishwakarma day by performing rituals and offering prayers to Lord Vishwakarma, within the promise of their workplaces.
We are called with different names at different nooks of the world, called as Vishwakarmas (North India) and Vishwabrahmins (southern India), Jangidbrahmins, Ramgarhia, Panchal, Dhiman, Lohar, Suthar, Mistry, Malavia, Sharmas, Acharyas and Charys.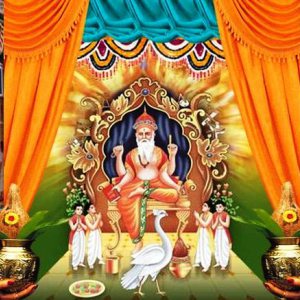 Every year 17 th September last day of Hindu (
Festivals According Bengali Calender
) month Bhadra, the worksmen, engineers, craftsmen including Heavy Medium Scale Industry Railway workshop Large Scale perform the Vishwakarma puja even in IT Sectors and all offices observed half-day close to celebrate Vishwakarma Puja.