2019 Basant Panchami
Saraswati Mantra for Students

How to celebrated Saraswati Puja in India & Abroad
Its Vasant Panchami class 10 West Bengal Madhyamik and class 12 Uchcha Madhyamik will start from 18th February followed by (10+2) CBSE, ICSE board exams round the corner in March and April, every parents, students would think of celebrating Saraswathi Puja 2019 at their homes, so that all kids can invoke the blessings of the goddess.
This Puja is celebrated in the month of phalgun month this year on Saturday 9 February 2019 till next-day morning Feb 10 Sunday, and is celebrated popularly in the eastern region and is mostly celebrated by the youth in Universities, Colleges, Schools, Study Centers, IT Firms etc.
Moreover, this festival is observed during different times in different parts of India.
In south India, this puja is celebrated during Navratri, which is also called the Mahanavami day, also observed as Ayudha puja and Saraswati puja.

Now a day Saraswati Puja celebrated in Bangalore, Delhi, Chennai, Hyderabad, apart from India its also observed in United States, UK, Australia, Canada and other European Countries
Saraswati Mantra In Hindi
Important things keep in mind during Saraswati Puja celebration:
The essential Puja Items (Puja Samagri or puja ingredient) used during this puja are
Saraswati Image or Saraswati idol of Goddess Saraswati doesn't matter its Small or Big

New white cloth (vastram)
Flowers – mainly louts, lilies or jasmine.
Mango leaves or other decorations
Turmeric
Kumkum
Rice
Bananas
Locally available Fruits

February 9 Saturday is Vasant Panchmi – Saraswati Puja.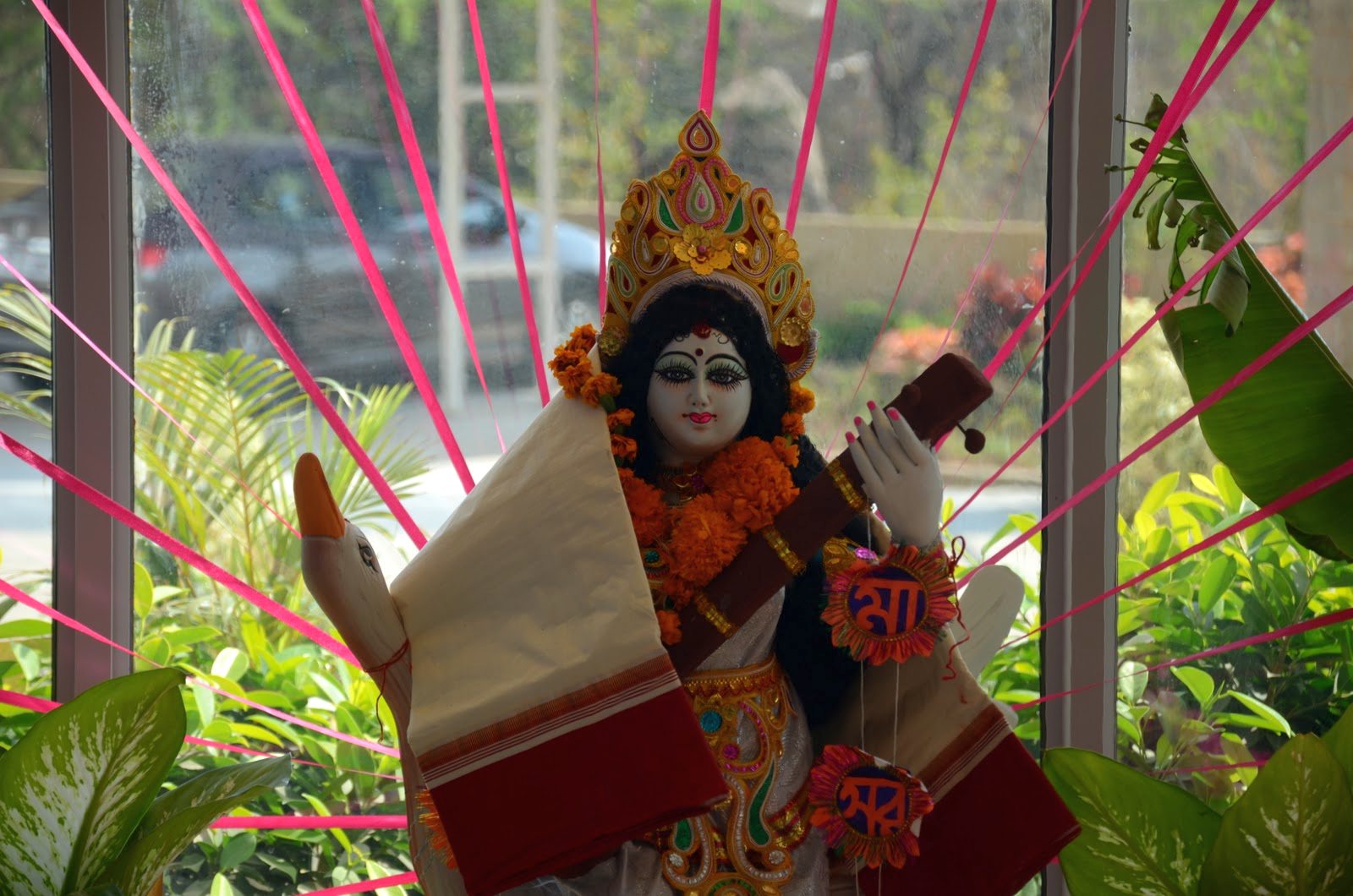 Worshipping Goddess Saraswati is not only for education but for impressive communication, clarity of mind, right decisions, peace of mind, wealth and all other materialistic benefits also.
Celebrate it by using more of Yellow color in wearing and decorating also. Saraswati mantra with prasad of sweet Saffron rice are advisable. You can offer any other yellow sweets.
Happy Saraswati Puja
Enjoy it by chanting, singing, dancing , meditating. Aim is to connect to your source on this day –