CHANDANNAGAR JAGADHATRI PUJA 2019 IMAGES
Monday 4 November 2019
This year Jagadhatri Puja will be observed on Monday, 4 November 2019. Actual Jagadhatri puja is celebrated over four days from Saptami to Dashami. This year it will start on 1st Nov 2019 and continue up to Sunday 7th Nov 2019. As we know Chandanagar is famous for Jagadhatri Puja like Kolkata famous for Durga Puja and Barasat famous for Kali Puja.
Jagadhatri Puja 2019 in will begin on Monday 1 November and ends on Thursday, 7 November is celebrated mainly in Chandannagar the Hooghly district of West Bengal also this day is devoted to Goddess Durga

In Hinduism, Jagaddhatri or Jagadhatri (Bengali জগদ্ধাত্রী) the Protector of the World is a form of Devi, the supreme goddess. Her worship is more common in West Bengal than the other parts of India.
Generally, Jagaddhatri is referred as another name of Durga. In Sanskrit and Bengali, the word 'Jagaddhatri' lite
rally means 'Holder (dhatri) of the World (Jagat)' . According to Sri Ramakrishna, "(Jagaddhatri) holds the World. If she wouldn't, the World might fall down. This explanation can be applied for both Durga and Jagaddhatri. That is why in the hymns, the goddess is always referred as 'Jagaddhatri Durga –
Panchami : 1st November 2019 – Friday
Sasthi : 2nd November2019 – Saturday
Saptami : 3rd November 2019 – Sunday
Asthami : 4th November 2019 – Monday
Nabami : 5th November 2019 – Tuesday
Nabami : 6th November 2019 – Wednesday
Dashami : 7th November 2019 – Thursday


পঞ্চমী : ১ নভেম্বর ২০১৯ – শুক্রবার
মহাষষ্ঠী : ২ নভেম্বর ২০১৯ – শনিবার
মহাসপ্তমী : ৩ নভেম্বর ২০১৯ – রবিবার
মহাষ্টমী : ৪ নভেম্বর ২০১৯ – সোমবার
মহাষ্টমী : ৫ নভেম্বর ২০১৯ – মঙ্গলবার
মহানবমী : ৬ নভেম্বর ২০১৯ – বুধবার
মহাদশমী : ৭ নভেম্বর ২০১৯ – বৃহস্পতিবার
জয়দে জগদানন্দে জগদেকপ্রপূজিতে| জয় সর্ব্গতে দুর্গে জগদ্ধাত্রি নমঽস্তুতে||
Chandanagar Jagadhatri Photos

Chandannagar Jagaddhatri Puja Images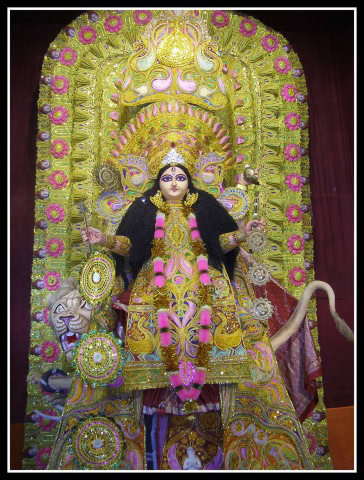 HD Jagadhatri Photos
Jagadhatri Pujo Photos in Chandannagar
(Transliteration: jayade jagadanande jayadekaprapujite. jaya sarvagate Durge Jagaddhatri namahstute.)
Jagadhatri Pujo 2019 images
Chandannagar Jagadhatri Puja 2019
– I hail Thee, o all-pervasive Jagaddhatri Durga, Thou art victorious and symbol of the joys of the world; it is only Thou in the world, who can be worshipped properly. Victory to Thee.
Like most of other Hindu deity, Jagaddhatri is also known as other names like Karindrasuranisudini (Slayer of the Elephant Demon), Maheswari (the Great Goddess), Shaktacharpriya (the Goddess who loves to be worshiped as according to the practices of the Sakta sect of Hinduism, or Shaktism), Adharabhuta (the Bearer of the World) etc.