Significance of Navadurga
Navratri 2018: Know the Durga Puja Muhurat And auspicious timings of Ghatasthapana Muhurat: Navratri Ghatasthapana, Navratri Puja Timings, Navaratri Sthapana/ Ghatsthapana Muhurat, Durga Puja Timing, Navaratri Sthapana/Ghatsthapana Muhurat, Navratri Kalash Sthapana 2018 Muhurat Puja Vidhi, Durga Puja 2018 Date Time
Navadurga, which literally means nine Durga devi, constitute, according to Hindu mythology, the manifestation of Durga in nine different forms. Nine names of goddess durga are:
Nava Durgas are together worshipped during the Durga Puja (Navratri). Each of Durga has separate significance powers and people do puja of Specific one Durga among Durga Puja (Navadurga) which power and blessing they need. For example if any one want to get married then they perform of Mother Kartayani  puja which is one durga among Navadurga Durga, the mother goddess of the Hindus and a form of Devi and Shakti, is believed to have manifested in various forms, and Navadurga are believed to be the most sacred aspects of Durga.
According to a Hindu tradition, it is believed that there are three major forms in which Durga manifested herself, namely, Mahasaraswati, Mahalakshmi and Mahakali who are the active energies (Shakti) of Brahma, Vishnu and Shiva respectively (without these goddesses the gods will lose all their powers and would not have the energy to lift a finger). These three forms of Durga further manifested in two more forms each, and thus emerged the nine forms of Durga, which are collectively called Navadurga or Nine Durgas. Navadurga are famously worshipped during Durga Puja Navaratri or the Nine days, initiating the devotees into a period of festivities according to Hindu calendar but they are also worshiped when people face grave serious type of problems etc.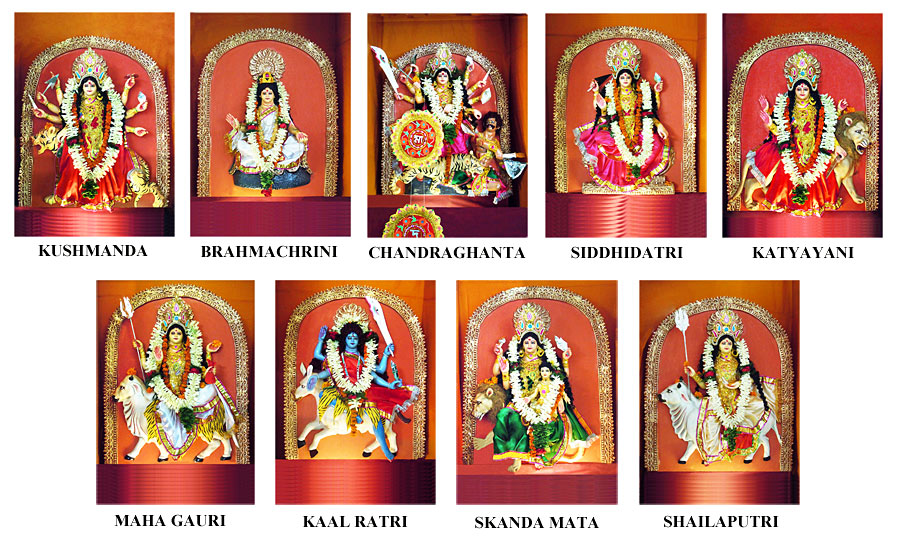 Nine forms of Goddess Durga
Navadurga Mantra Ya Devi Sarvbhuteshu Prakriti Roopen Samsthita Namastasyai Namastasyai Namastasyai Namo Namah
Navaratri Navdurga the nine forms of Goddess Durga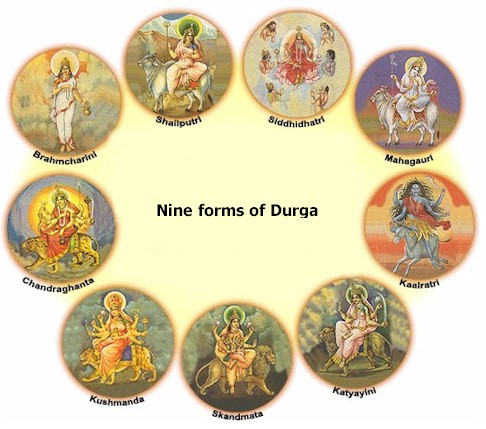 Click here to see Navadurga Dhyana ( Meditation ) Mantra