Durga Puja Date Timing in Ramkrishna Mission Belur Math
Kumari Puja Live Broadcasting from Ramkrishna Mission Belur Math
Watch Durga Puja Live 2016
Kumari Puja Live from Ramkrishna Mission Belur Math
Kumari Puja Live from Belur Math
Find Durga Puja Date Timing in Belur Math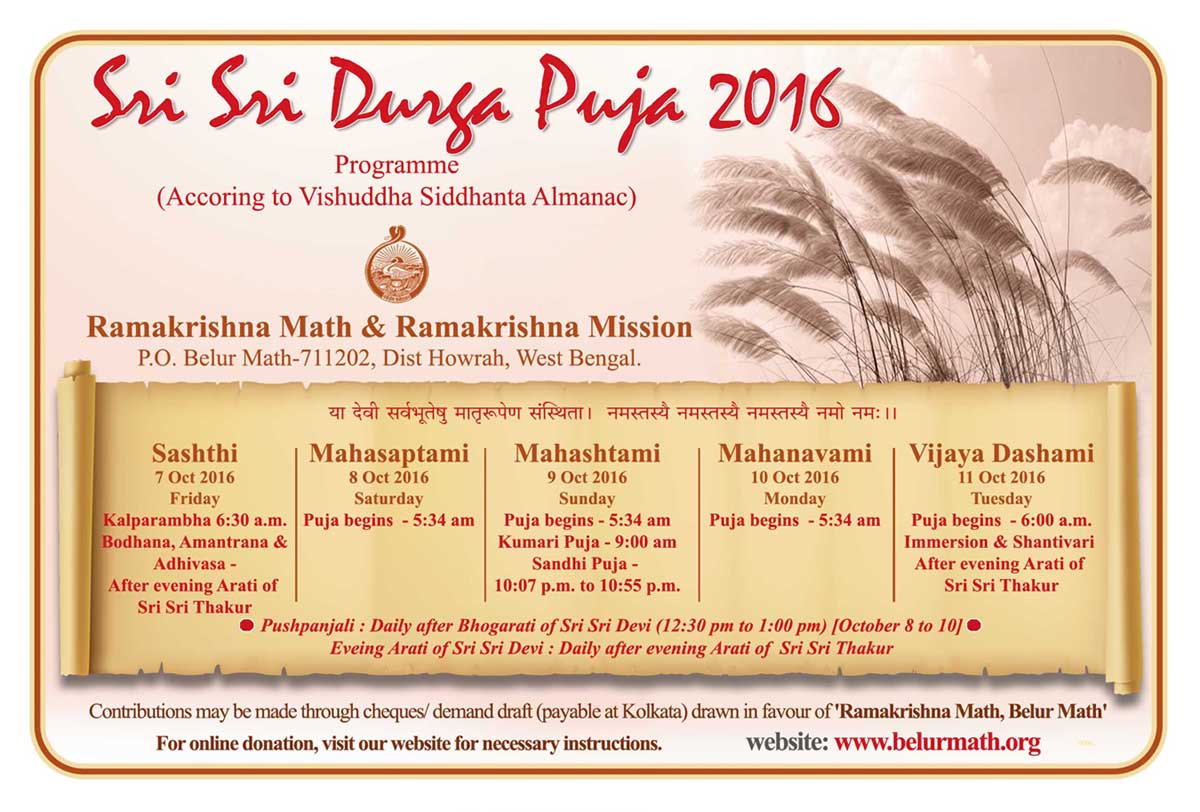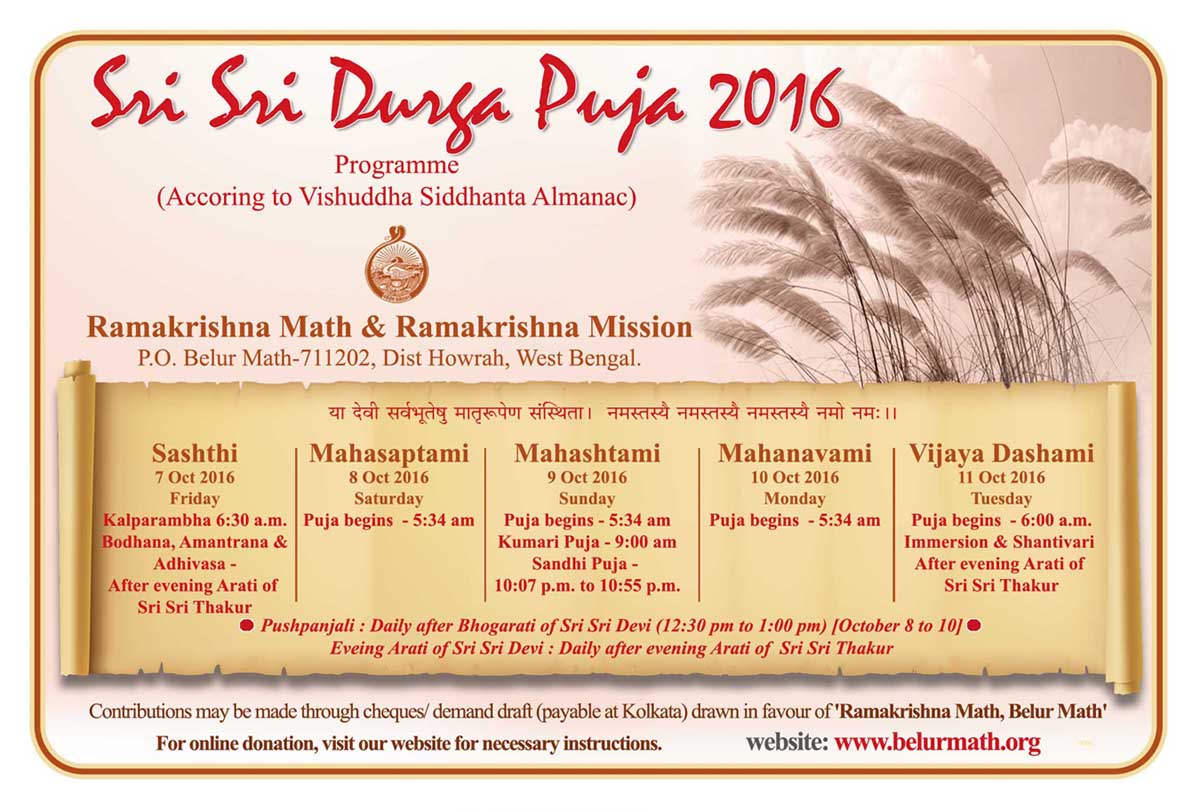 October 7, Friday : Shashthi
Kalparambha 6:30 AM
Amantran and Adhivasa : 6:30 pm  (After evening arati of Sri Sri Thakur)
October 8, Saturday : Saptami
Puja begins : 5:34 AM
Sandhyarati : 6:30 pm  (After evening arati of Sri Sri Thakur)
October 9, Sunday : Mahashtami
Puja begins : 5:34 AM
Kumari Puja : 9:00 AM to 9:50 AM
Sandhi Puja : 10:07 PM to 10:55 PM
October 10, Monday : Mahanavami
Puja begins : 5:34 AM
Homa : 9:00 A.M
Sandhyarati : 6:30 P.M  (After evening arati of Sri Sri Thakur)
October 11, Tueday : Vijaya Dashami
Puja Begins : 6:00 A.M
Immersion : 7:00 P.M
Official Source : Ramkrishna Mission Belur Math www.belurmath.org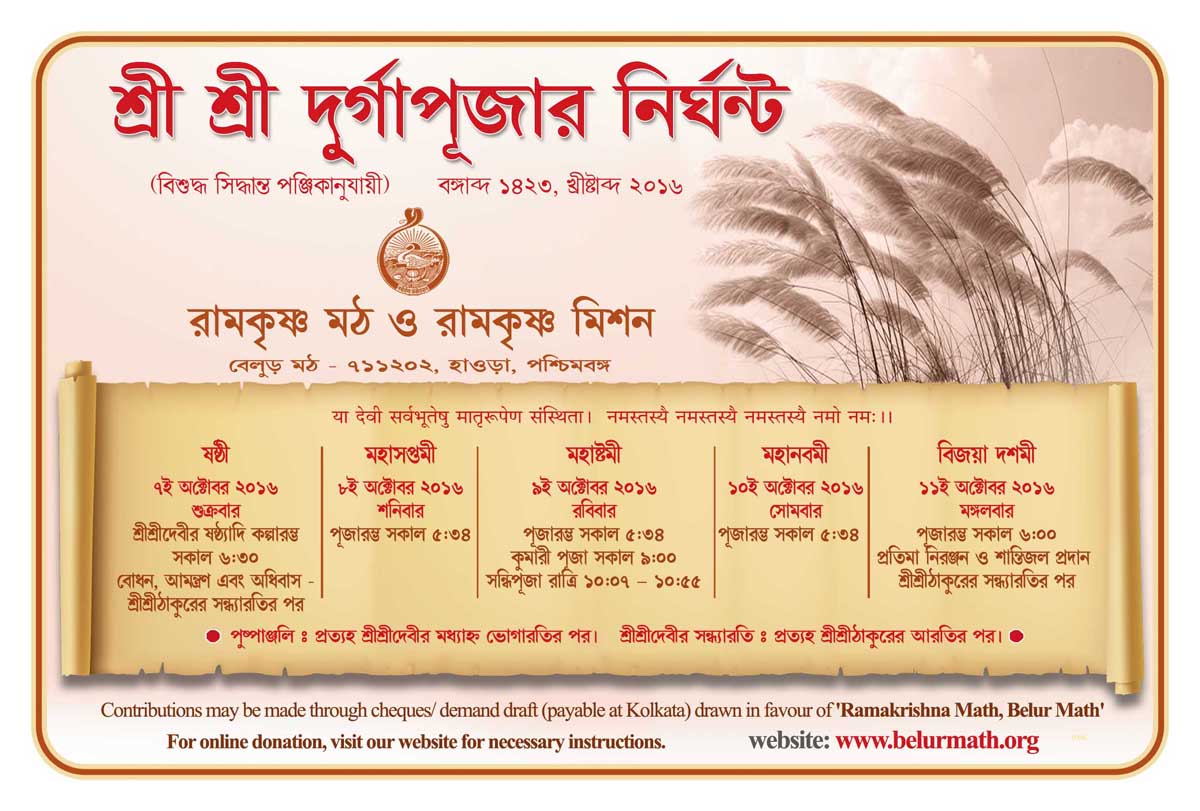 Durga Puja will be live streamed Click Here :
Live Broadcast Durga Puja
Live Broadcast Kumari Puja from Belur Math
http://livestream.com/belurmathorg/durgapuja2016
DD Bangla Telecast Schedule of  Durga Puja
Belur Math Ramkrishna Mission Durga Puja 2016
Also See: Kumari Puja at Ramkrishna Mission Belur Math Photos
Autumn (Sharat) is regarded as one of the best seasons in India. The sun is on his southward journey and, as his blazing rays begin to slant, the subcontinent feels freedom from the oppressive heat of summer months. The monsoon has infused new life into trees, shrubs, creepers, herbs, grass, moss and lichen; and Gaia, the Earth Goddess, shows herself off in her richly embroidered green apparel of lush vegetation everywhere.
In the villages there is a look of plentitude and peace. The granaries are full with freshly garnered grain, the fields offer large open spaces with cattle grazing here and there, and along the borders of fields you can see rows of white and light pink kashphool (flowers of a kind of tall grass) tassels waving triumphantly in the breeze. Overhead, the sky is deep blue with an occasional white cloud sailing across lazily to an unknown destination. A kind of mystic silence pervades the air, broken only by the laughter of children playing here and there.
It is as if Nature has prepared herself for the advent of the Divine Mother. Indeed, which other season can be a better one to welcome the Divine Mother than autumn? And Durga Puja is about the advent of the Divine Mother.