Durga Puja 2018 Dates and Time According to Bengali calendar 1425
শ্রী শ্রী দুর্গা পূজার নির্ঘন্ট
দেবীর ঘোটক আগমন এবং দোলায় গমন (প্রস্থান)
৮ই অক্টোবর, সোমবার মহালায়া
১৪ই অক্টোবর, রবিবার মহাপঞ্চমী
১৫ই অক্টোবর, সোমবার মহাষষ্ঠী
১৬ই অক্টোবর, মঙ্গলবার মহাসপ্তমী
১৭ই অক্টোবর, বুধবার মহাঅষ্টমী
১৮ই অক্টোবর, বৃহস্পতিবার মহানবমী
১৯শে অক্টোবর, শুক্রবার বিজয়া দশমী
Durga Puja 2018 Dates Time Tithi Laghna
Durga Puja 2018 Celebrations Dates and Time
DurgaPuja 2018 Dates, Lakshmi Puja 2018 Date And Kali Puja 2018 Date
Mahalaya Monday, 8 October, 2018
Maha Panchami Sunday, 14 October, 2018
Maha Sasthi  Monday October 15, 2018
Maha Saptami Tuesday October 16, 2018
Maha Ashtami Wednesday October 17, 2018
Maha Nabami  Thursday October 18, 2018
Bijaya Dashami Friday October 19, 2018
Lakshmi Puja Wednesday October 24, 2018
Kali Puja Wednesday November 7, 2018
Durga Puja Dates according to Bengali Calendar
Durga Puja 2018 Dates & Time According to Bengali calendar 1425
শ্রীশ্রীদুর্গাপূজারনির্ঘন্ট
According to traditional Bengali calendar, the days are calculated based on sunrise and sunset. 'Tithi' depends on the rising and setting of the moon. The timing of Asthami Sandhi Puja is calculated counting 'Tithi'. Sasthi, Saptami, Nabami and Dashami pujas are performed after sunrise even if they fall in the previous evenings.
" নমো দেব্যৈ মহা দেব্যৈ শিবায়ৈ সততং নমঃ।
নমঃ প্রকৃত্যৈ ভদ্রায়ৈ নিয়তাঃ প্রনতাঃ স্মতাম"।।
দেবীর ঘোটক আগমন এবং দোলায় গমন
মহা ষষ্ঠী: ৯ ই আশ্বিন ১৪২৫, ইং ২৬শে সেপ্টেম্বর ২০১৭ (মঙ্গলবার) পূজারম্ভ সকাল ৯ টা ১৫ মিঃ
দেবীর আগমন ও অধিবাস সন্ধ্যে ৮টা ০০ মিঃ
মহা সপ্তমী: ১০ ই আশ্বিন ১৪২৪, ইং ২৭শে সেপ্টেম্বর ২০১৭ (বুধবার) নবপত্রিকা প্রবেশ ও স্থাপন সকাল ৯টা ১৩ মিঃ এর মধ্যে
পূজারম্ভ সকাল ৯টা ১৫ মিঃ , পুষ্পাঞ্জলি ১১টা ০০ মিঃ সন্ধ্যা আরত্রিক ৭টা ৩০ মিঃ
মহাষ্টমী: ১১ ই আশ্বিন ১৪২৪, ইং ২৮শে সেপ্টেম্বর ২০১৭ (বৃহস্পতিবার) পূজারম্ভ সকাল ৯টা ১৫ মিঃ , পুষ্পাঞ্জলি ১১টা ০০ মিঃ
সন্ধি পূজা: মুহূর্ত— রাত্রি ৯টা ১৩মিঃ থেকে রাত্রি ১০টা ০০ মিঃ মধ্যে
মহা নবমী: ১২ ই আশ্বিন ১৪২৪, ইং ২৯শে সেপ্টেম্বর ২০১৭ (শুক্রবার) পূজারম্ভ সকাল ৮টা ৪৫ মিঃ, পুষ্পাঞ্জলি ১০টা ৩০ মিঃ
বিজয়া দশমী: ১৩ ই আশ্বিন ১৪২৪, ৩০শে সেপ্টেম্বর (শনিবার) পূজারম্ভ সকাল ৮টা ৪৫ মিঃ , পুষ্পাঞ্জলি ১০টা ৩০ মিঃ
প্রতিমা নিরঞ্জন: বিকাল ৪টা।
বিসর্জনান্তে অপরাজিতা পূজা।
দেবীর দোলায় প্রস্থান (গমন)
This year the goddess Durga arrives on a horse and departs on a pallekart. There is possibility of heavy rain and floods as Maa Durga arrives on a boat.
Durga's mode of journey to the earth is detailed in scriptures. The modes an elephant, a horse, palanquin, boat all signify luck or omen which influence the life on earth.
Based on Indian Standard Time (IST) ভারতীয় স্ট্যান্ডার্ড সময়ানুযায়ী
শ্রীশ্রী দুর্গা পঞ্চমী PANCHAMI – October 18, 2015 Sunday (দুর্গা পূজা মহা পঞ্চমী ১২আশ্বিন১৪২২): From Previous day 1.33pm – That day 12.55pm – Kolkata, WB, India
শ্রীশ্রী দুর্গা ষষ্ঠী MAHA SHASHTI – October 19, 2015 Monday (দুর্গাপূজা মহা ষষ্ঠী ১৩ আশ্বিন ১৪২২): "Kalparambho" Within 8.28am | Durga Devi "BODHON" "Amantran" and "Adhibas" in the evening.
Durga Puja 2018 Anjali Time
Durga Puja 2018 Dates Time according to Bengali (Bangla) Panjika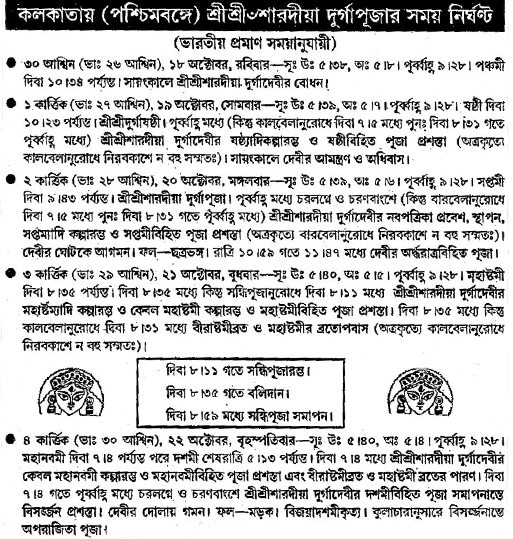 Durga Puja 2018 Dates and Time
Durga Puja 2018 Dates Time Schedules Tithi Anjali Time according to — Kolkata–Indian Standard Time
Durga Puja Dates Time Schedules Tithi Anjali Time according to — Delhi–Indian Standard Time
Durga Pujo 2018 Dates Time Schedules Tithi Anjali Time according to — Mumbai–I.S.T
Durgoutsav 2018 Dates Time Schedules Tithi Anjali Time according to — Assam–IST
Durga Puja Dates Time Schedules Tithi Anjali Time according to — Chennai–Indian Standard Time (IST)
Durga Puja 2018 Dates Time Schedules Tithi Anjali Time according to — Bangladesh Standard Time (BST)
Durga Puja Dates Time Schedules Tithi Anjali Time according to — London Standard Time (GMT)
Durga Puja 2018 Dates Time Schedules Tithi Anjali Time according to — Washington Standard Time (PST)
Durga Puja Dates Time Schedules Tithi Anjali Time according to — California Standard Time
Durga Puja Dates Time Schedules Tithi Anjali Time according to — Sydney Australia
Durga Puja Dates Time Schedules Tithi Anjali Time according to — Toronto Canada