Cossimbazar Raj Bari Murshidabad Durga Puja
Bonedi Bari Durga Puja in West Bengal
Durga Puja at the Cossimbazar Rajbari still remains a royal affair even after 300 years. The Roy's of Cossimbazar Rajbari continue the puja with equal solemnity and grandeur of their past. Thousands throng the Rajbari on each day of the five-day festivities from different corners of the district.
Ajodhya Narayan Roy first started the Durga Puja in the family around 1710-1712 AD. The grandeur of the puja increased, when Dinobondhu Roy constructed the magnificent Cossimbazar Palace (known as New Palace or Choto Rajbari) in 1740 AD.
Special Rituals of Cossimbazar Rajbarir Puja
The Durga Puja starts here on the day of Rath Yatra with the worship of the wooden structure of the idol called Kathamo. After completion of the earthen work, the chief artisan starts painting the idol on Anant Chaturdashi-fourteenth day of the bright fortnight "Shukla paksha" of the 6th month of Hindu calendar Bhaadra. The idol is placed on the temple dias on the day of Mahalaya but the durga puja of the family starts from Shukla Pratipad of Devipaksha- the day after Mahalaya.
The uniqueness of this puja is, here you will see a sea lion instead of the lion as Durga's Bahon / vahan (carrier). Also the dias is made with five skulls of different animals at corners. The practice of sacrificing animals was stopped by Raja Kamala Ranjan Roy.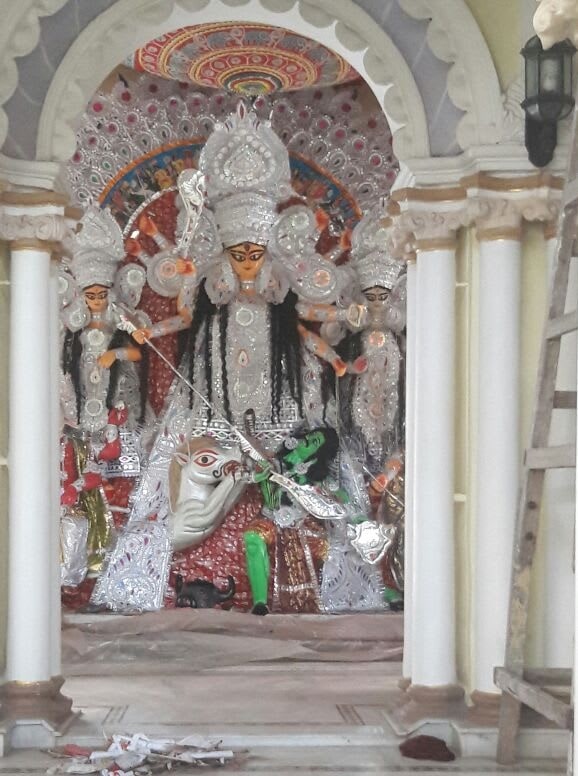 The immersion of the idol is done in the Bhagirathi . There was also a custom of freeing a neelkanth bird (The Indian Roller) after the immersion of the idol (Bisarjan) every year.