Dutta Bari Durga Puja – Thanthania
Address of Dutta Bari Thanthania
3 Bidhan Sarani (College Street), North Kolkata (Near Thanthania Kali Bari)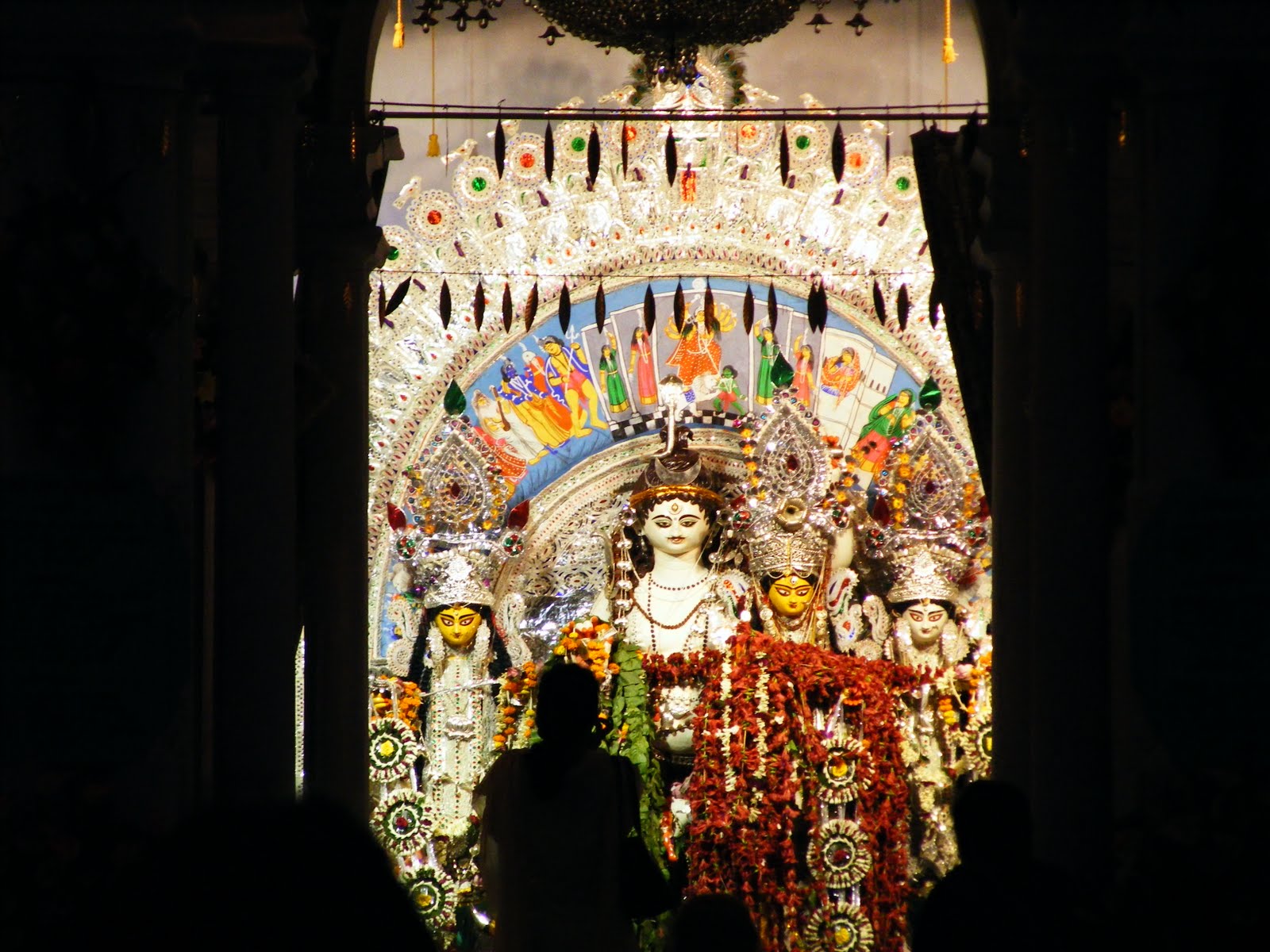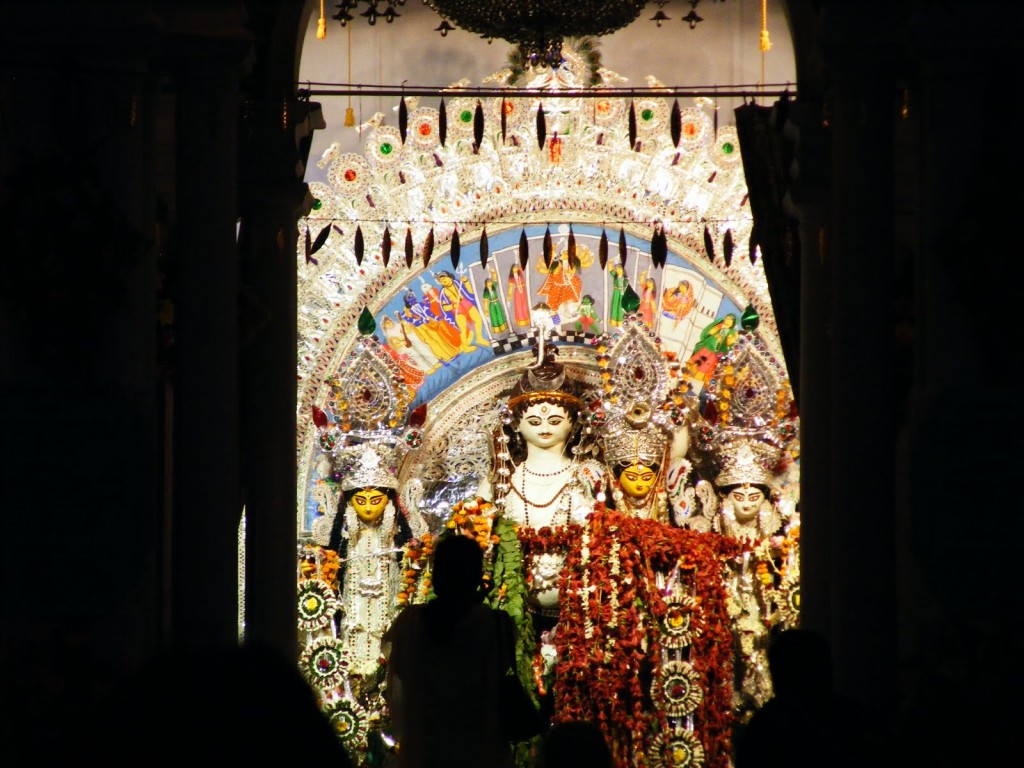 Started in 1855 by Dawaraka Nath Dutta, The Duttas of Thanthania worship "Hara Gouri"
Durga Dalan of Thanthania Dutta Bari
The founder of well known Shib – Durga Puja at Dwarika Bhawan is the great Dwarka Nath Dutta. He was a believer of Shib and prefer peace rather than power. Once Dwarka Nath Dutta dreamt a dream of "Hara Gouri Murti". Soon he established the Shib-Durga Puja in 1855.The then "Prabhakar" , a well-known Bengali magazine , edited by Shri. Ishwar Chandra Gupta, remarked that "In Thanthania Dutta Bari, the Durga Puja was one of the three leading autumnal ceremonies where 'Shaibs' were entertained and 'Nauches' heightened the pomp and éclat.
The grand Durga Puja has been celebrated by the successors of Dwarka Nath Dutta since 156 years. The Durga Puja of Dwarika Bhawan is unique with its traditional approach. Here Durga maa is emerged with smiling face( Mrinmoyee). On the left of Maa Durga , Kartika and Saraswati are being articulated and on the right , Laxmi and Ganesh exist.. The decoration of the Durgadalan, puja rituals are distinct in style.During the time of the great Dwarka Nath Dutta , this puja had been observed with spectacle and  dignity . Although, the lavishness of puja has faded away a bit, but yet in term of sanctity and devotion, this puja is being top listed by the quality viewers. In the recent time, West Bengal Tourism organize "Puja Parikrama" with top five Baroari pujas along with five heritage pujo of Bonedi Bari. The puja of Dwarika Bhawan is enlisted on top of the table.
As per tradition, Dutta family observes Durga puja for ten days. Her arrival starts the Devipaksha. The day is being observed as 'Mahalaya', the day of invocation. In the dark night of amabasya , people pray to Goddess Durga to arrive in the earth to ward off all evils. On the dawn of 'Mahalaya', homes in Bengal resonate with the immortal verses of the 'Chandipath' . On Sashti, when Goddess Durga is welcomed with much fanfare and gusto. Look for the 'Bodhon' rituals when Goddess Durga is unveiled. The priest ceremonially establishes life in the clay image and from now on till the tenth day, the image is treated as the goddess herself. Saptami is the first day of Durga puja. Kola Bow or Nabapatrika is given a pre-dawn bath. This is an ancient ritual of worshiping nine types of plants. They are together worshiped as a symbol of the goddess. The main Saptami Puja follows Kalparambho and Mahasnan. The Maha Ashtami commences with Ashtami Puja , followed by Arati and Puspanjali. The a special ritual takes place, i.e "Dhuno porano", where the married women hold burning Malsas on their palms and heads, praying for the peace and prosperity of their children as well as families. People from all around the corner of Kolkata witness this august celebration. During Sandhi Puja , the entire courtyard of Dwarika Bhawan is filled with hymns of spiritual Mantras.
In the olden time, Dutta family used to give 'Noibedya' with 14 monn (560 kgs) Atap Rice and 5 monn grinded sugar , now the present generation give 5.25 kuintal (525 kgs) Atap Rice and 1 kunital grinded sugar. During the time of high price of the essential commodities, how Dutta family manages to afford these ? Mr. Sujit Kumar Dutta, one of the successors of Dwarka Nath Dutta intimated " We have completed our 156th Durga Puja Celebration and this has become possible because of the blessing of our Kuldevta Sreedhar Jeu and obviously by the grace of Maa Durga."