Dawn Bari Durga Pujo Dorjipara Kolkata
Famous Bonedi Bari Durga Pujo in Kolkata
Location of Dorjipara Dawn Bari Durga Puja
"Keshab Aabaas"
62A, Joymitra Street,
Kolkata-700005.
The last emperor of the Royal Mughal dynasty was struggling for survival, and on the other hand, the British had been emerging as a major power. During that changing face of time, Lt. Shri Dayaram Dawn, a resident of Katulpur, Bankura shifted to Kolkata (Sutanuti) dreaming of a bright future. He worked hard and was endowed with name, fame and wealth. The Dawns are very religious by nature and are basically spice merchants. The successors of the Dawn family namely Lt. Shri. Ramnarayan and Lt. Shri Dharmadas worked hard and flourished their business with reputation.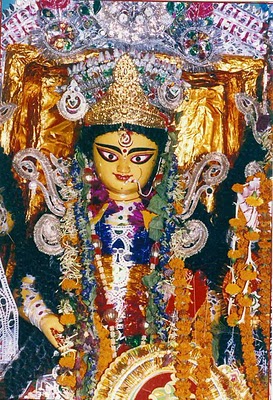 Photo of Dorjipara Dawn Bari Durga Puja
Today's most authentic form of Durga is that of a ten handed goddess modeled out of clay astride a lion. Abhaya Durga, one of the several personifications of the Goddess is worshiped by the dawn family. Except for the divine third eye, the goddess Abhaya appears to be human and she draws our affection at the very first glimpse. This incarnation of the goddess has two arms gesturing the assurance of protection, a smiling face and a quiet look. She wears yellow dress and sits with her left foot on her knee joint and her right foot on the lotus.
The Dawns' initiated the worshiping of the Abhaya Durga.
There is a heart rending incident behind that initiation. It was in 1760, Shri. Ramnarayan started worshipping Durga as "Abhaya Durga". Shri. Ramnarayan married off his only daughter Durga Rani when she was a mere child. After marriage, during her first visit to her parental house she expired. Nothing could be replaced with the grief of such a great loss. To console himself and his wife, Shri. Ramnarayan decided to worship the goddess Durga, not in a form of "Aayudhdharini, Singhobahini, Mahishasurmardini, Asurdolini or Dasabhuja Ranachandika, but he wanted to adore her in the form of Abhaya as her appearance is very much like their own beloved daughter.
Since 1760, this Abhaya form of Durga has been solemnized with enormous devotion at Dorjipara 'Dawn Bari'. Last year they celebrated 250th year of celebration adding some unique dimension to the Sharodiya utsab of the three hundred year old city of Kolkata. The successor of Ramnarayan Dawn has been maintaining the olden days' tradition. Usually, "SANKALPA" cannot be ritualized by any departed soul. But in the dorjipara puja, still the "SANKALPA" is being solemnized in the name of Shri. Ramnarayan Dawn. Initially the idol of Abhaya Durga Goddess was conceived by Shri.Khagendra nath Pal, a famous sculptor of Kumartuli. But now Shri. Gobinda Dey has taken the responsibilities.
"As this puja was initiated after the death of Durga Rani, no marriages take place from the day of "Kathamo Pujo"( Ratha yatra) to the moment of "Bisharjan" said Shuvomay Dawn.
The "Bodhon" starts from Pratipad. On Saptami, Ashtami and Nabami, the family members get together and observe these festive days with devotion. The original "Thakur dalaan" made by Shri. Ramnarayan Dawn has no existence today. That is why this puja has been shifting its venue each year. But now the family members have decided to reform a new "Thakur Dalaan". All the rituals are maintained. In spite of getting addicted to Facebook, Google Plus, Twitter  the younger generation takes an active part in their Pari Barik Puja.
On the auspicious day of Maha Ashtami, mothers of the Dawn family perform "Dhuno Porano" ritual. They pray before Maa Abhaya Durga to protect their children from any evil by putting Malsas on their hands and head with blazing fire. It is a spectacular scene of motherhood. Kumari puja is also held in this family with high regards. On the day of immersion, the Abhaya Murti is being welcomed (Boron) by the male members of the family. The gate of Dawn Bari is opened for all from Shashthi.
This year, the venue of the puja will be at
Dorjipara Dawn Bari Durga Puja