Bakulia Bari Durga Puja, Kiddirpore
Location of Bakulia Bari Durga more than 150 years old Durga Puja
Passing through the bustling Watgaunge Road, one can reach at the Bakulia House where an illustrious Bengali Bisweshwar Mookerjee built up an empire from a very humble state and started Durga puja on his premises more than 150 years ago.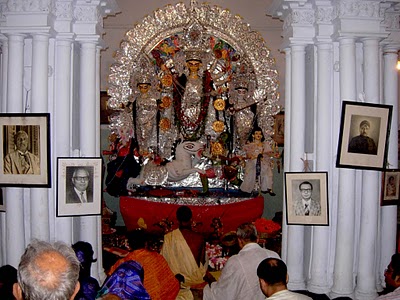 According to Pradip Mookerjee, one of the oldest surviving members, "Earlier we had our one family puja at Bakulia village which is about 80 km from Howrah in Bandel – Katwa section. In one occasion, just before the puja, Bisweshwar reached at Bakulia with his wife, who was in her advanced stage of pregnancy.  As you know child birth was not an easy task in those days, his elder brother advised him to return back to Kolkata. From the very next year he started to organise this puja in the newly built Thakurdalan.""From the day of Panchami, the Vien (a system of preparing variety of sweets) start functioning at home and 'Maa' is draped in sari and ornaments." said Sukanya Mookerjee, one of the daughter in laws of Mookerjee family.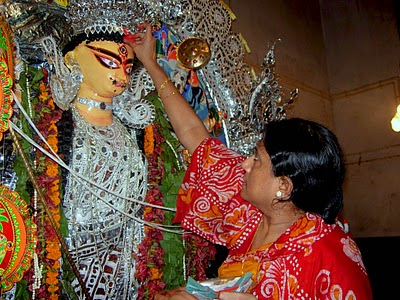 "Another interesting ritual is to serve pre-cooked food as offering to the goddess before immersion. The story behind is, as she will have to cover a long distance, light food is more preferable for her comfortable reach. Alternative story goes , as she is the imagery conception of our own married daughter and have enjoyed the culinary delights during her sojourn, which will  definitely be questioned on her return , to  save her from such embarrassment, she must be served only with  a simple dish before her maidenhood journey," Mookerjee said.
On the evening of Vijaya Dasami, the deity is carried on shoulders for immersion.